Russia is to provoke a new famine in Ukraine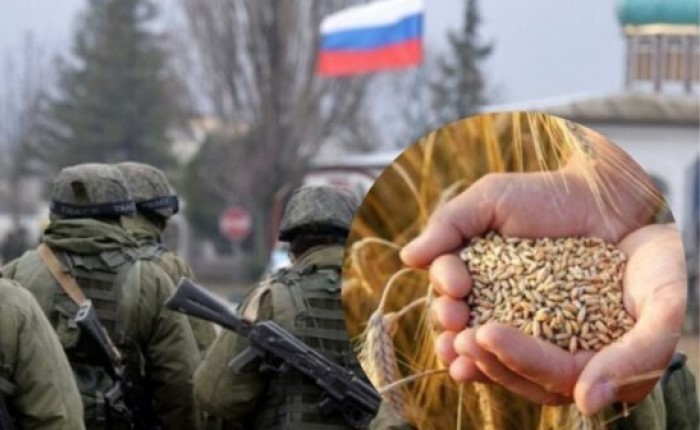 Since the beginning of the large-scale invasion of Russian troops, on the temporarily occupied territories numerous crimes committed by Russian war criminals have been detected.
Now we add that the theft of Ukrainian grain was added to the list of such crimes. During April and early May 2022, the Russians exported a significant amount of grain from the temporarily occupied territories, including Luhansk, Zaporizhia and Kherson regions. In addition, farmers note agricultural machinery belonging to Ukrainian agricultural enterprises are also confiscated being stolen. The occupiers often threaten farmers and force them to sell their own products at significantly reduced prices. In general, Russian`s looting is reaching a qualitatively new level, which consists in the illegal "re-export" of grain stolen in Ukraine.
Such a policy of the occupying authorities is aimed not only at banal enrichment through illegal means. Purposeful work is being done to escalade the food security situation on the temporarily occupied territories. Confiscation of agricultural products and blocking of supplies from outside, causes the corresponding consequences for the population – a significant rise of food prices. At the same time, we note shortages and rising prices for other vital goods – medicines, hygiene products etc.
Moscow is once again trying to provoke a famine (as the Soviet government did in the past)
At the official level, Moscow, by Peskov, denies everything. At the same time, in April, Serhiy Aksyonov, a collaborating head of Crimea, made an official statement on "stable supplies of agricultural products" to Crimea from mainland Ukraine. Video and photo materials with the facts of grain trucks moving on the roads of the occupied Kherson region towards the Crimea are distributed on the Internet. Despite all the difficulties and threats, Ukrainians who remain in the occupied territories, record the crimes of the occupiers. According to the latest data, Russian troops have already exported 400-500 thousand tons of grain from the occupied territories of Ukraine to the Crimea. Earlier it was reported, that a Russian ship loaded in the temporarily occupied Crimea by 27 thousand tons of grain has tried to sell it to Egypt, but after refusing changed direction to Lebanon and Syria.
Russia has long been waging war not only for geopolitical confrontation with the West, but for the purpose of destroying Ukraine as an independent state, doing so by all possible means. Crimes against humanity, genocide of the Ukrainian people – not a complete list of atrocities committed by the Kremlin in Ukraine.